Discover now, the subtleties of some ZEN Altitudes products:
The Oshibori
The Oshibori Machine
Sleeping Kit (Mask, Sock, Pajamas)
Dental Set
Vanity Set
Tissue Set
Wooden Brush
Wooden Comb
Hand Sanitizer
The ZEN Altitudes team manages the design, manufacture, supply of many products and accessories for travellers by plane, train, boat…
Examples :
– PRIVATE JET welcome kit
– Daily ON BOARD YACHT Kit
– The Business Class Kit
– Limousine Kit by ZA
We also work with personalised kits made with your company logo to provide you with a customised solution just for you!
The Original Japanese Oshibori
The Oshibori, like a fragrant caress on your skin.
Origin of the Oshibori: It is said that the origin of the "oshibori" goes back several hundred years when families offered their guests wet clothes to cool themselves. This little attention is part of everyday life in Japan where the guest is really treated like a king.
Today, Zen Altitudes would like to transcribe this custom and to offer you its Oshibori 100% biodegradeable made from traditional Japanese Washi paper and scented with essentials oils of Japanese Flowers with a fresh feeling of well-being and a prodigiously sweet fragrance.
Washi paper is made from the long inner fibres of plants and it is registered as a UNESCO intangible cultural heritage. With the use of sugarcane fibres it creates a unique softness and freshness for the hands.
Presented cold in the summer and warm in the winter, these Oshiboris will be for you an essential addition in your welcome for any season.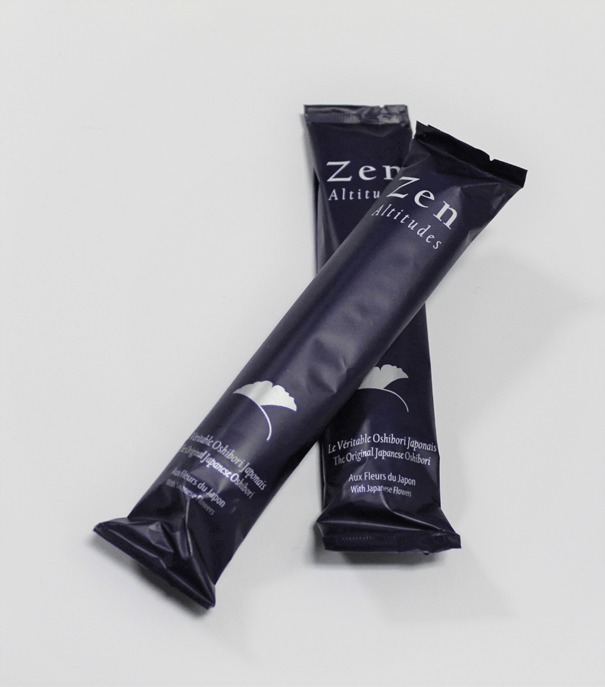 The Oshibori Machine
The Oshiboris Machine to offer a privileged welcome to your customers.
This distributor allows the user the possibility of offer freshly made Oshiboris either hot or cold and one can even change the temperature, size and water content to best fit your needs. These Oshiboris are also made of traditional Japanese Washi paper.
This easy to use oshibori dispenser can serve oshiboris whenever you need them, both the traditional way as well as providing you with antiseptic wipes, our post Covid-19 innovation to ensure personal hygiene.
Sleeping Kit (Mask, Sock, Pajamas)
Close your eyes to see everything.
Mask: With a satin touch on the skin, our Zen Altitudes mask has been designed to offer you maximum softness and comfort for a deep sleep … this way, let yourself fall into the arms of Morpheus.
This product is made of satin on the outside and cotton on the inside for better comfort.
Socks: High quality soft cotton socks to provide a comfortable and breathable environment for your feet.

Pyjamas: 100% cotton in white and blue to offer you comfort throughout your trip.
HYGIENE & COMFORT
When well-being, leads to Zen Altitudes.
Zen Altitudes provides you with the right refined accessories which, in addition to being elegant, are also practical for those times of the day when you appreciate a little well-being.
Thus, we have thought for you a range of essential hygiene and beauty products to allow you to find all the comfort of your usual treatments during your travels. All you have to do is decide to leave. And the hardest part is done.
Dental Set
A complete kit consisting of a wooden toothbrush (to respect the environment), a branded toothpaste and dental floss.
The only kit to offer 3 essential products in 1 set that will make your stay untroubled.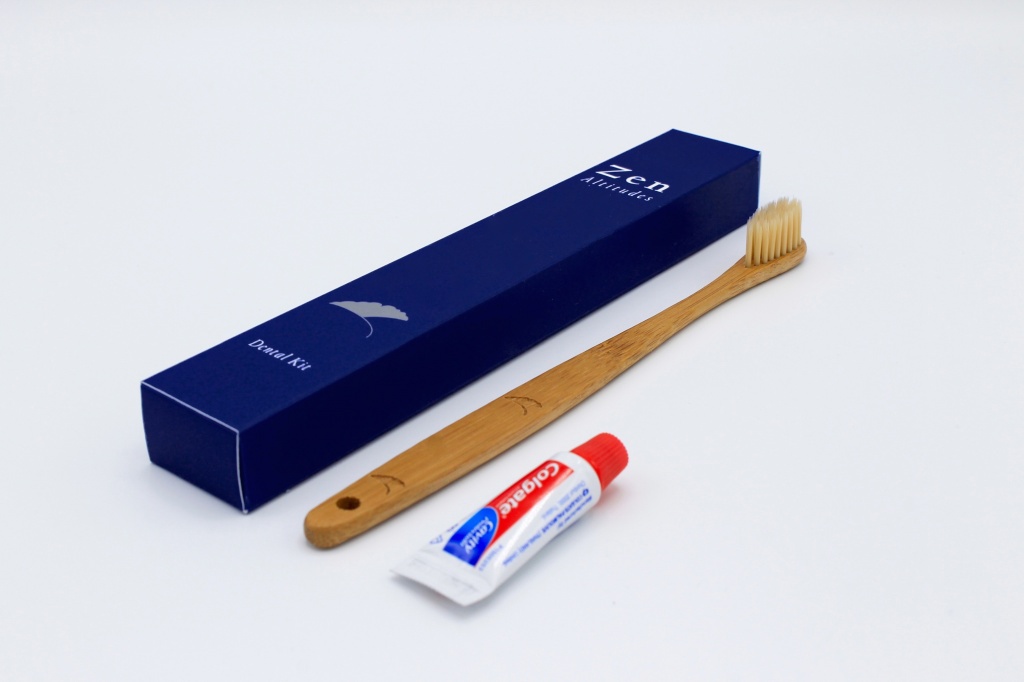 Vanity Set
A complete kit consisting of cotton buds, make-up remover cotton, a nail file and a sewing kit.
The only kit to offer 4 essential products in 1 kit that will make your stay relaxed.
Tissue Set
An ideal product to have in any circumstance. This pack consists of 5 soft tissues. Easy to store in pockets and handbags.
Wooden brush
A wooden brush, with comfortable tips, small, does not take up any space. It also has a hair scrunchy to tie the hair, practical and useful in any circumstance.
Wooden comb
A wooden comb, with comfortable tips, small, does not take up any space. Ideal, practical.
Hand Sanitizer Gel
A 30ml bottle of hand sanitizer gel that can keep your hands clean and disinfected.